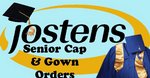 Jostens.com or 702-384-3300
Jostens will be here during lunch to take your orders!
Jostens' Representatives will be here Thursday, October 12th during lunch to take your orders for your cap and gown along with other senior items. They will be located near the main office. If you are ordering large packages they will start your order with an $80 deposit, and then set up payments with you.
You may also call their office at 702-384-3300 to place an order. You may also order online at www.jostens.com.
Prices will double after December 15th! If you order before December 15th they will offer a refund on most items if your student leaves PVHS or does not graduate. After December 15th the prices will double and they do not offer refunds.
If you are unable to afford a cap and gown for your student due to financial restraints please contact Mrs. Shockley at 775-727-7737 ext. 3032 for help.