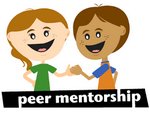 Peer Mentorship
2018-19 Aplication
Peer Mentorship is a 1 year class by application and approval. Students will work with underclassmen and incoming freshmen to develop and support a positive school climate and academic success. As mentors learn about what it mean to be a role-model, they will strengthen their own self-confidence, speaking ability, and inter-personal skills that are important to success in life. Mentors will help create a safe, caring learning environment where diversity is respected and celebrated.
Here is the application
and staff reference form
Completed applications submitted by May 9th will be given priority but applications will be accepted until all slots are full.