Nevada Promise Scholarship information.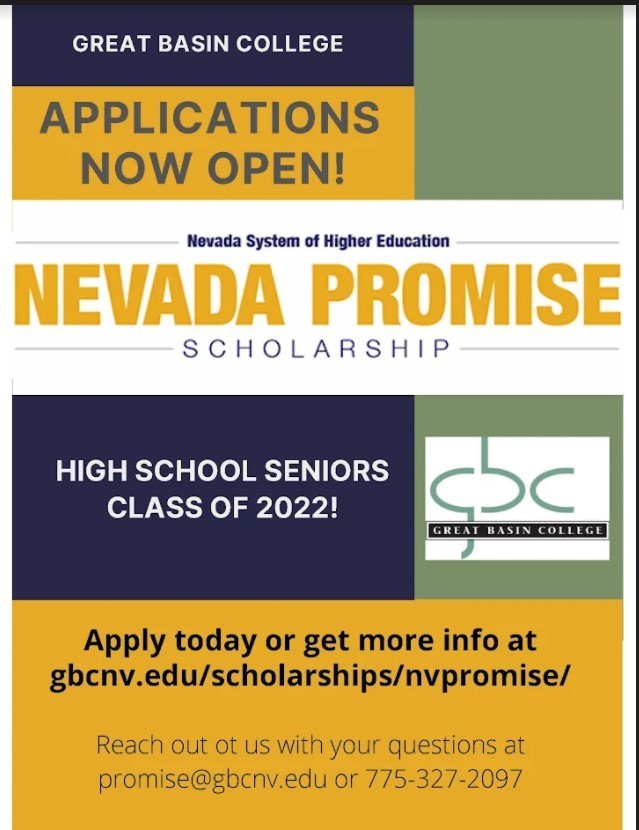 Greetings Trojan Families! Please take a moment to fill out the following survey by Monday, March 5th, 2021 regarding the possibility of your student returning to PVHS for four-days! Click Here:
https://forms.gle/vbEa5bmQBcjC7NzCA
This is preliminary data. Once we have this data, we will proceed with a mechanism to honor requests on an equitable basis. Contact PVHS at 727-7737 with any questions and/or concerns.

PVHS would like to thank Java Junkies for their partnership and generosity in providing coffee to our staff, bringing a good cup of joe and spreading cheer!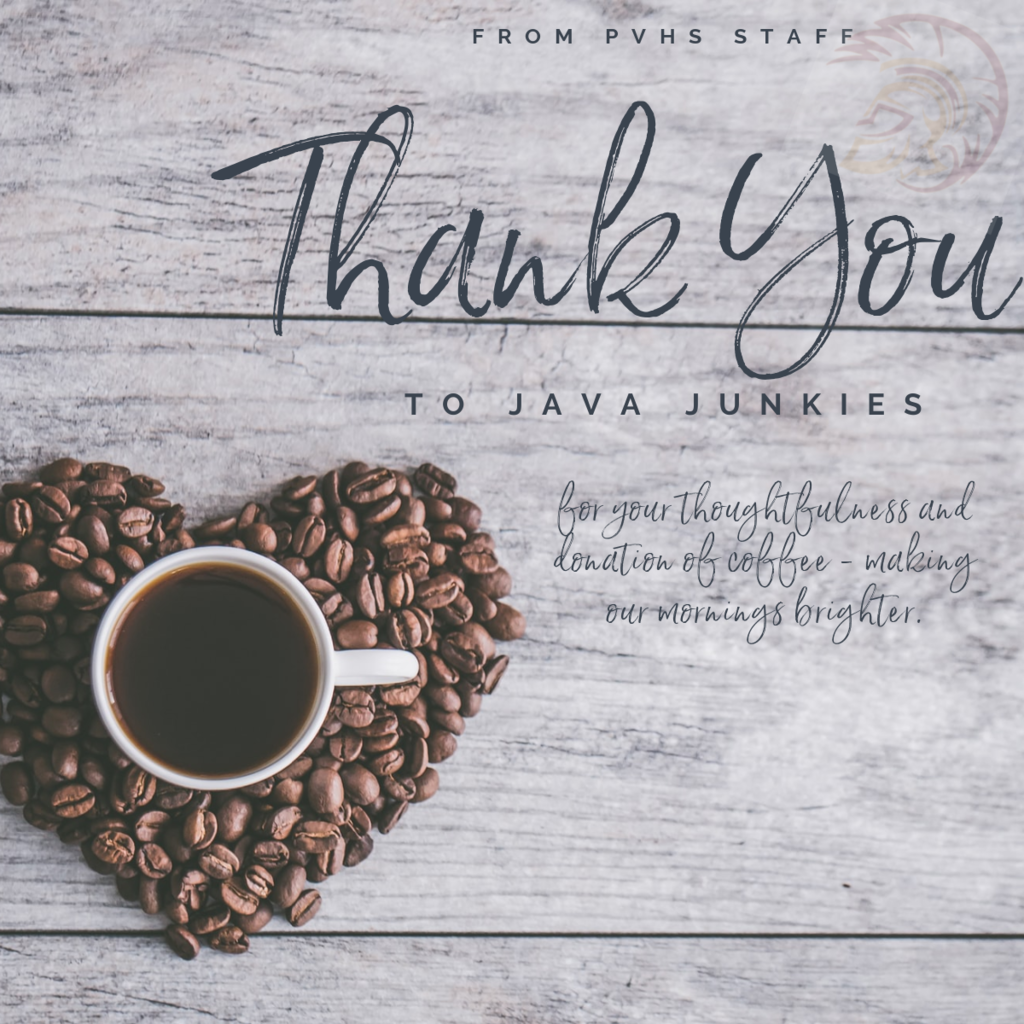 Today and everyday we challenge you to be an upstander. Use your voice to speak for yourself and those around you. SafeVoice was created for students/families to anonymously submit a tip of concern about your safety or well-being or a friend or classmate around you. Speaking up ensures that your school campus remains an open and welcoming place. Through SafeVoice, trained professionals are available to respond 24/7/365 to any tips received. Please visit the following site to make a report:
http://safevoicenv.org/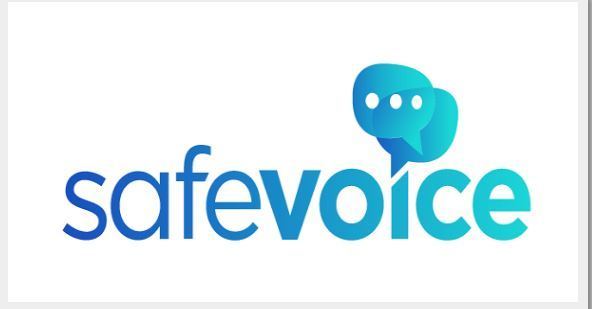 Today, February 3rd National Signing Day, we are celebrating two young women and one young man that are making commitments to post-secondary institutions. Probably the most important aspect of this is that, in the end, the ultimate goal is for these student-athletes to earn a college degree and set a career path that will benefit them for the rest of their life. For them to be recruited and have a college or university offer to help them get a college degree is an outstanding accomplishment. I am confident that each of these athletes realize the value of that opportunity and will continue to strive for success both on the athletic field and in the classroom.  First, let us celebrate Jalen Denton. Jalen has participated in baseball, football, and soccer as a student-athlete at PVHS. Jalen has been a key member of league champion baseball teams during his freshman and sophomore years. Jalen has committed to play baseball at Williston State College, an NJCAA affiliate in Williston, North Dakota.  The next athlete we will meet is Breanne Nygaard. Breanne has participated in golf and basketball during her time at PVHS. Breanne has led her golf team to two regional championships and state runner-up finishes, in addition to being the individual state runner-up last year. Breanne has committed to golf at the University of St. Thomas, an NCAA Division I program.  Our final athlete this morning is Maddy Souza. Maddy has participated in basketball, soccer, and track and field at PVHS. Maddy has been a staple on league championship teams in basketball and soccer. Maddy is committing to play soccer at Casper College an NJCAA affiliate, in Casper, Wyoming.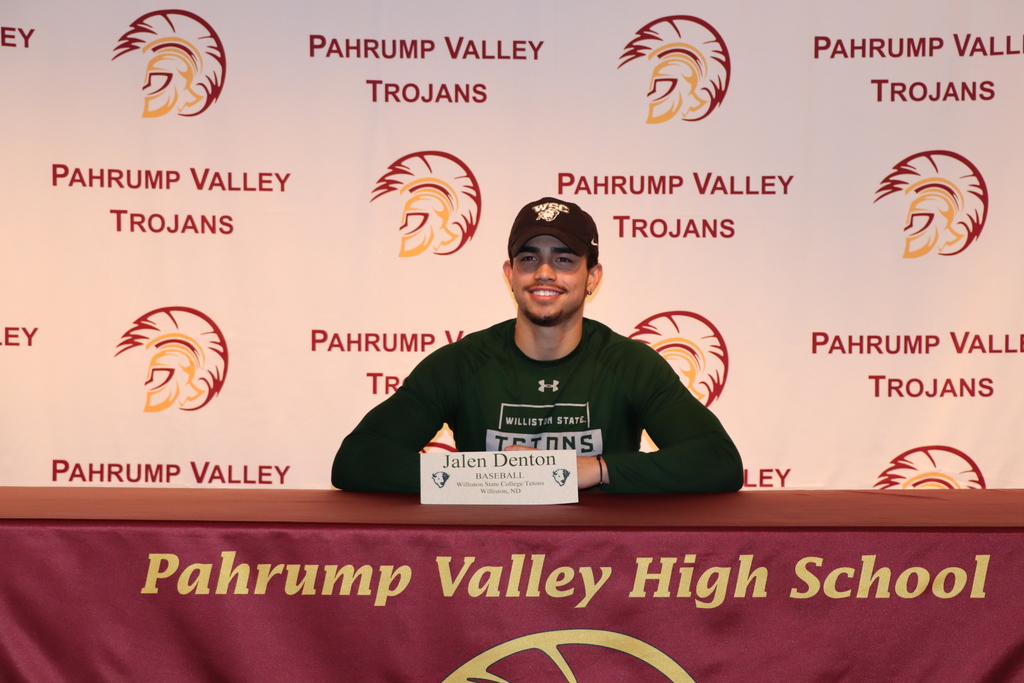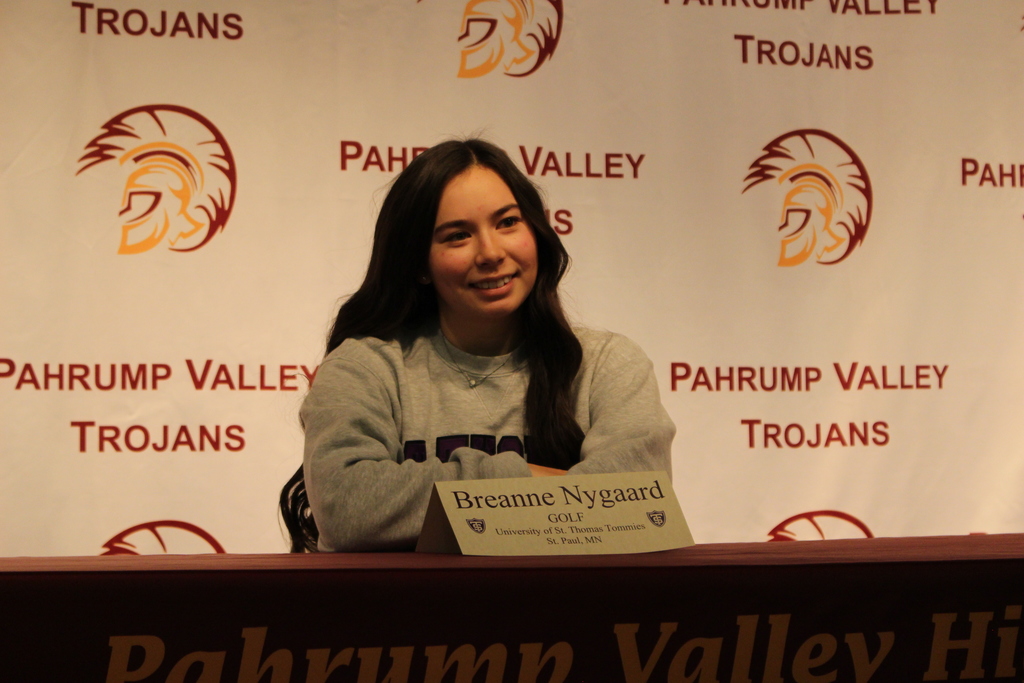 ACT Boot Camp coming soon! Plan to attend if you would like support in preparing for the ACT! Pizza will be served! (CDC guidelines will be followed.)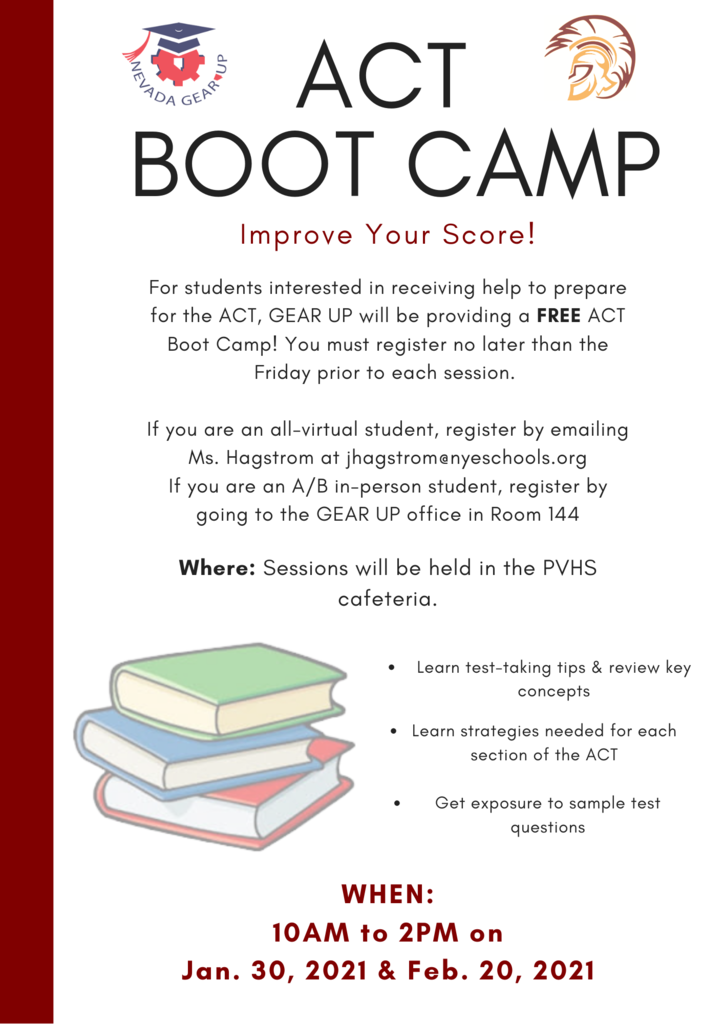 Pahrump Snow Day Update for Employees, 7:50 AM Custodians, Secretaries, and Administrators are to report to work. Teachers and support staff stay home.

Tues, January 26, 2021 - Pahrump Schools: A snow day has been called for students in Pahrump. Students in Pahrump will not have school today. At this time, school will proceed normally for students in other communities. Employees in Pahrump are asked to report to work if the roads from their home look clear. Communicate with supervisors if you cannot report.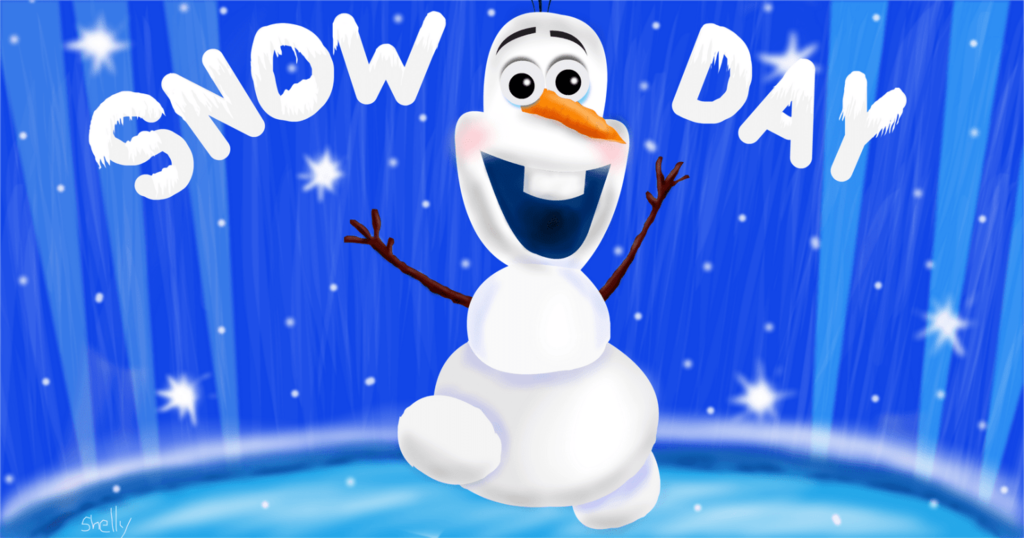 PVHS will be on Minimum Day schedule on Wednesday, 11/25 (release time will be 11:45am). We will then have Thursday, 11/26 and Friday, 11/27, off in observance of Thanksgiving and Family Day! We will return to Hybrid/Virtual schooling on Monday, 11/30. Happy Thanksgiving!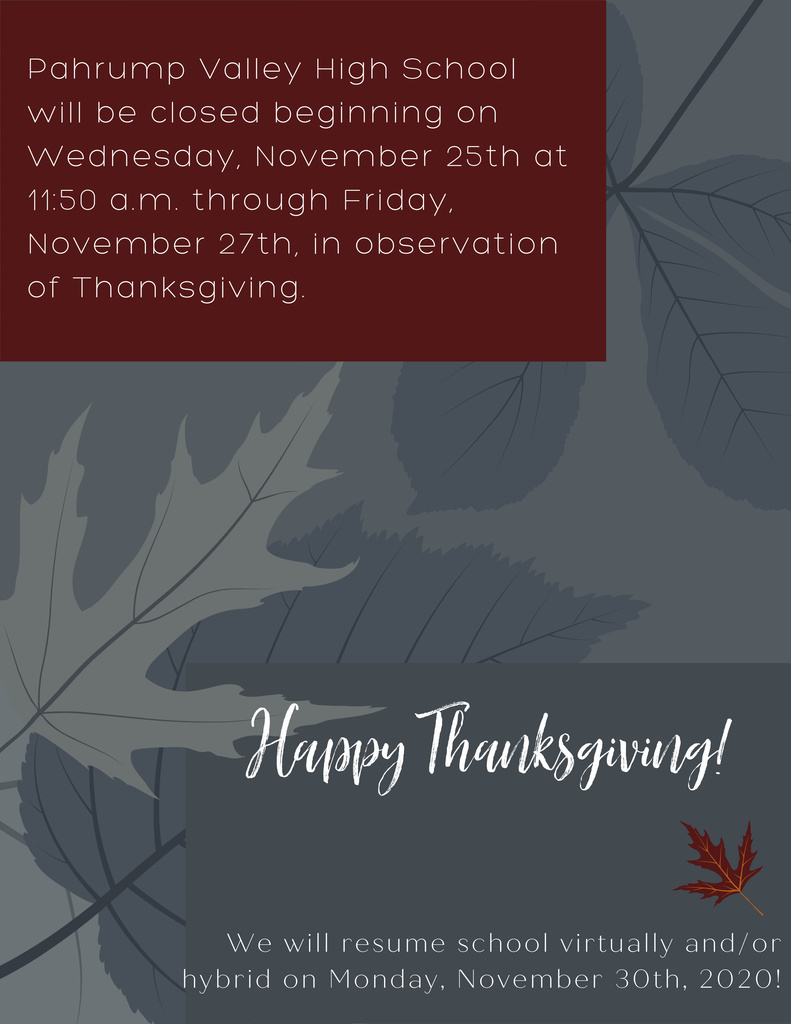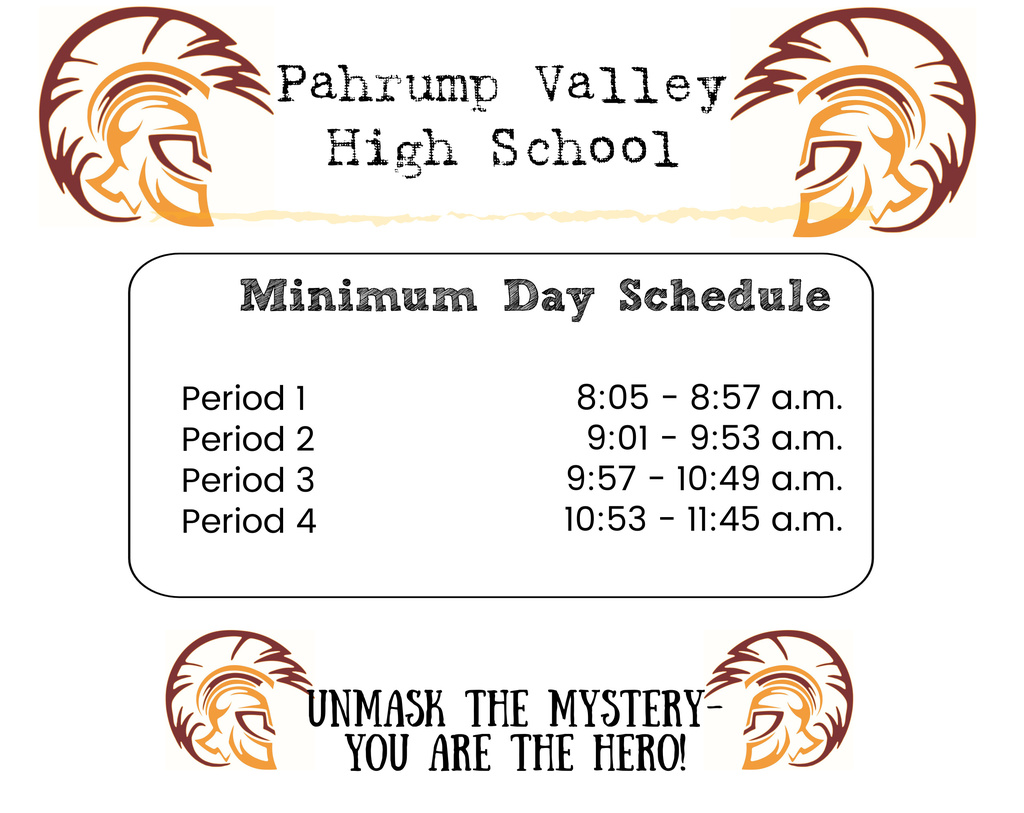 Please click this link to view the OSHA Notification to the NCSD about PVHS. We received this on November 18th. The required response is forthcoming.
https://5il.co/n8bp

P VHS Parents & Students: What if you could have a one-on-one person to support you in creating a path to success after high school? YOU CAN! See the attached flyer to secure your personal success agent today!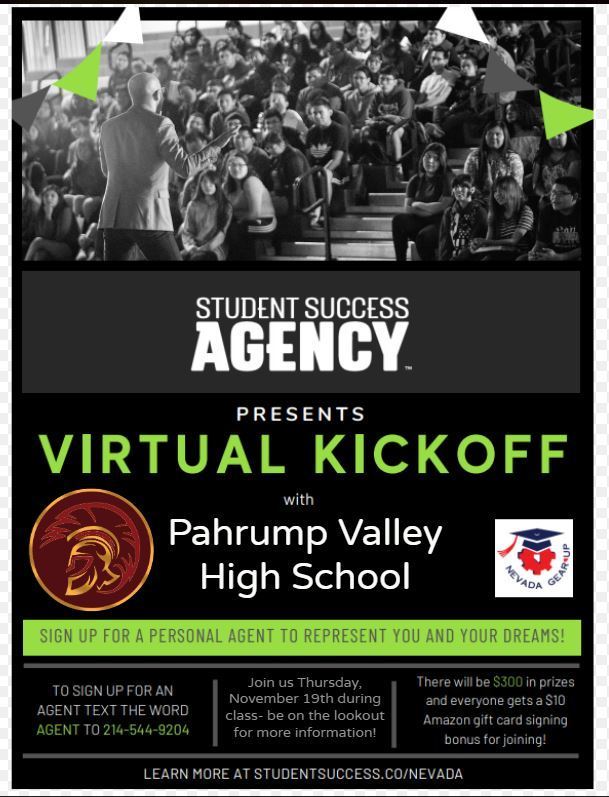 Students, Parents and Guardians! We will be holding a virtual assembly for all our students on Thursday, 11/19, during their second period class regarding SSA information. This is a great program linked with our GEAR Up program for all our students. Please see flyers for more information.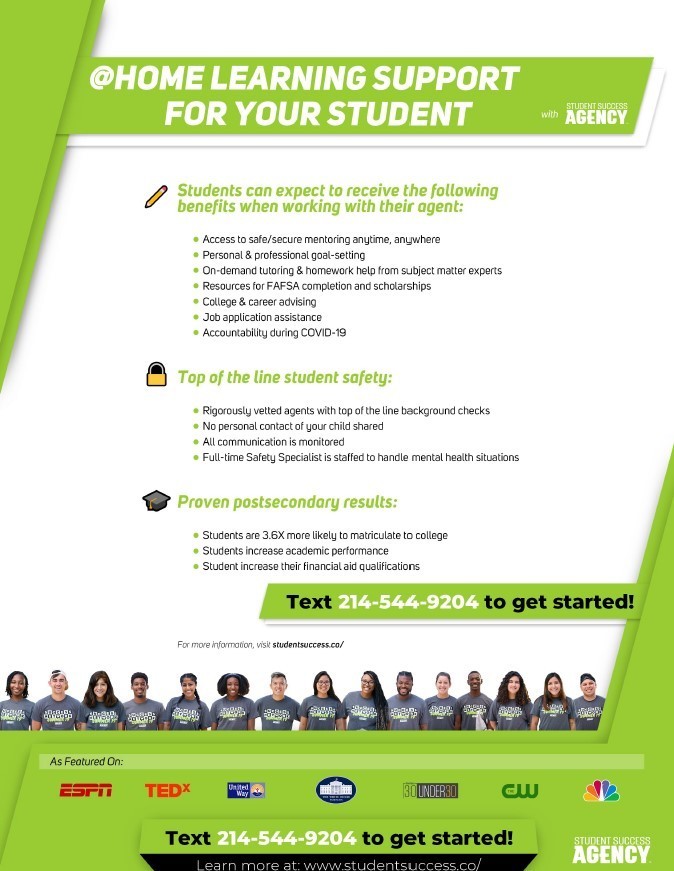 Trojan Families! Please see the following image regarding cameras on at PVHS. We are working to connect with students for a better experience. Please join us in working together.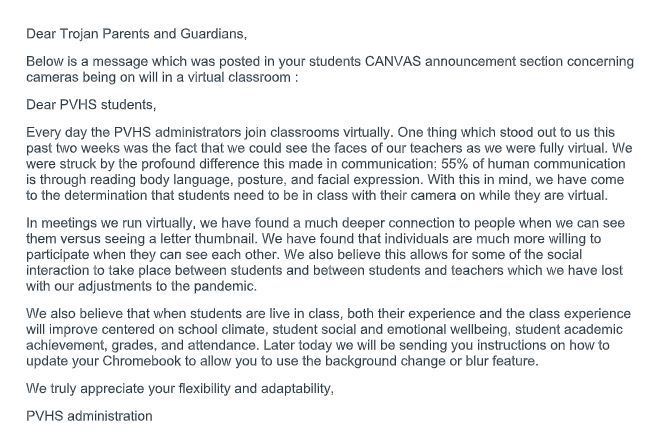 After reaching out for clarification on how the Governor's mandate from Nov. 10 affected our athletics re-start, it has become clear that we will not be able to re-start sports conditioning prior to the end of the Governor's stay-at-home order which goes through November 23. Our new target date to re-start now will be on Tuesday, November 24. We will continue to monitor the situation and provide an update as information becomes available.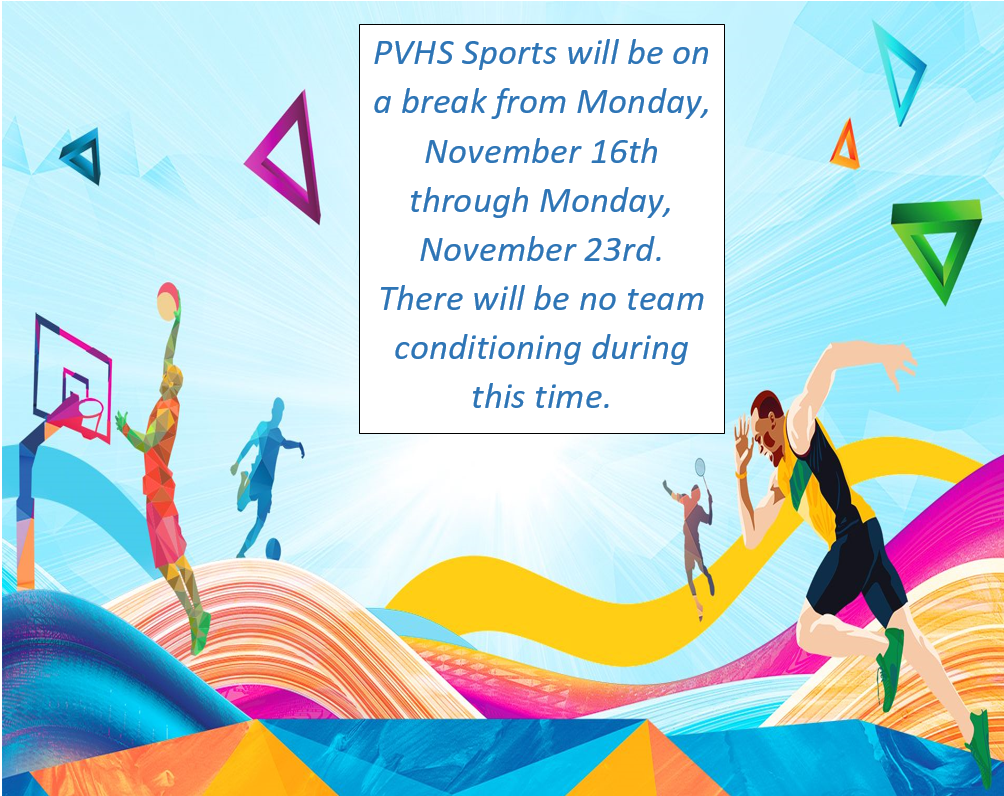 Happy Veterans Day to all those that have served. There will be no school tomorrow, Wednesday November 11th in honor of our Veterans. We would like to say a special thank you to our PVHS Veterans: MSG Smith, LTC McKinney, Mr. Rieger, Mr. Mercer, Mr. Meyers, Mrs. bustamante-Aviles, Mr. Mestas and Mr. Dela Rosa. Thank you for your service!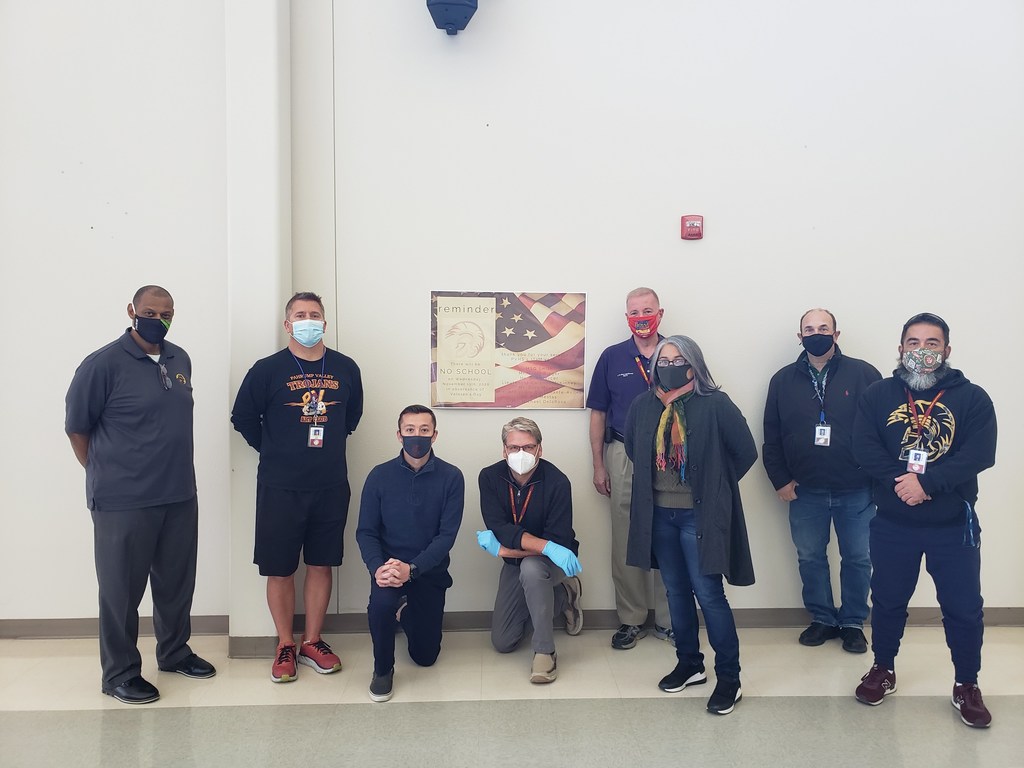 PVHS Department Spirit Competition Winners and Participants! Keeping up the Spirit at PVHS!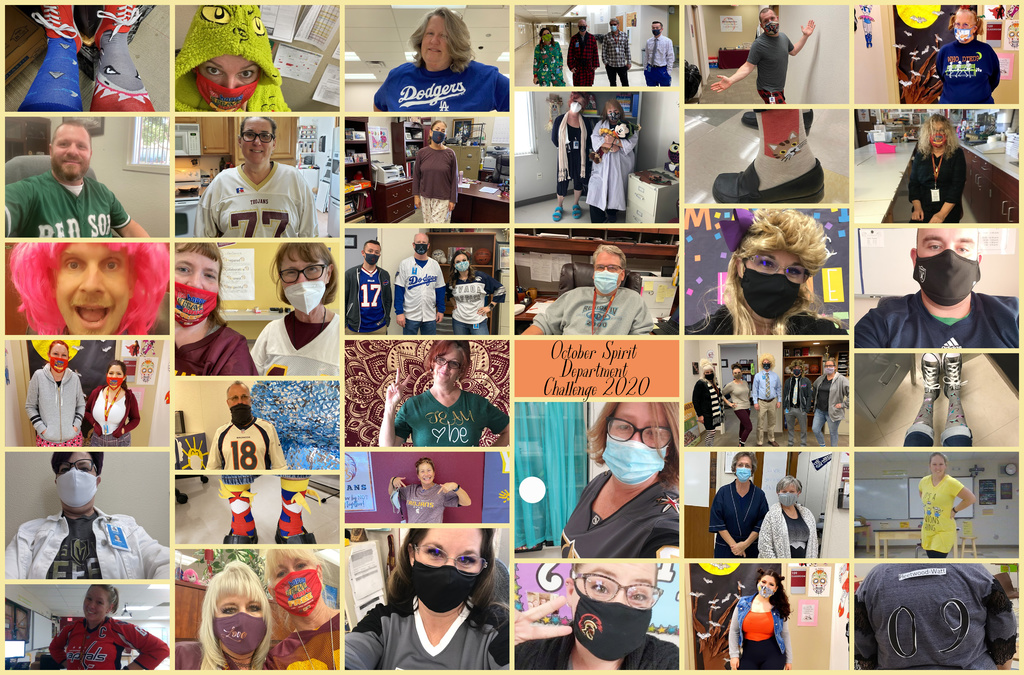 Greetings Trojan Families! While we are virtual only, please use the technology supports available in the graphic, should you need them!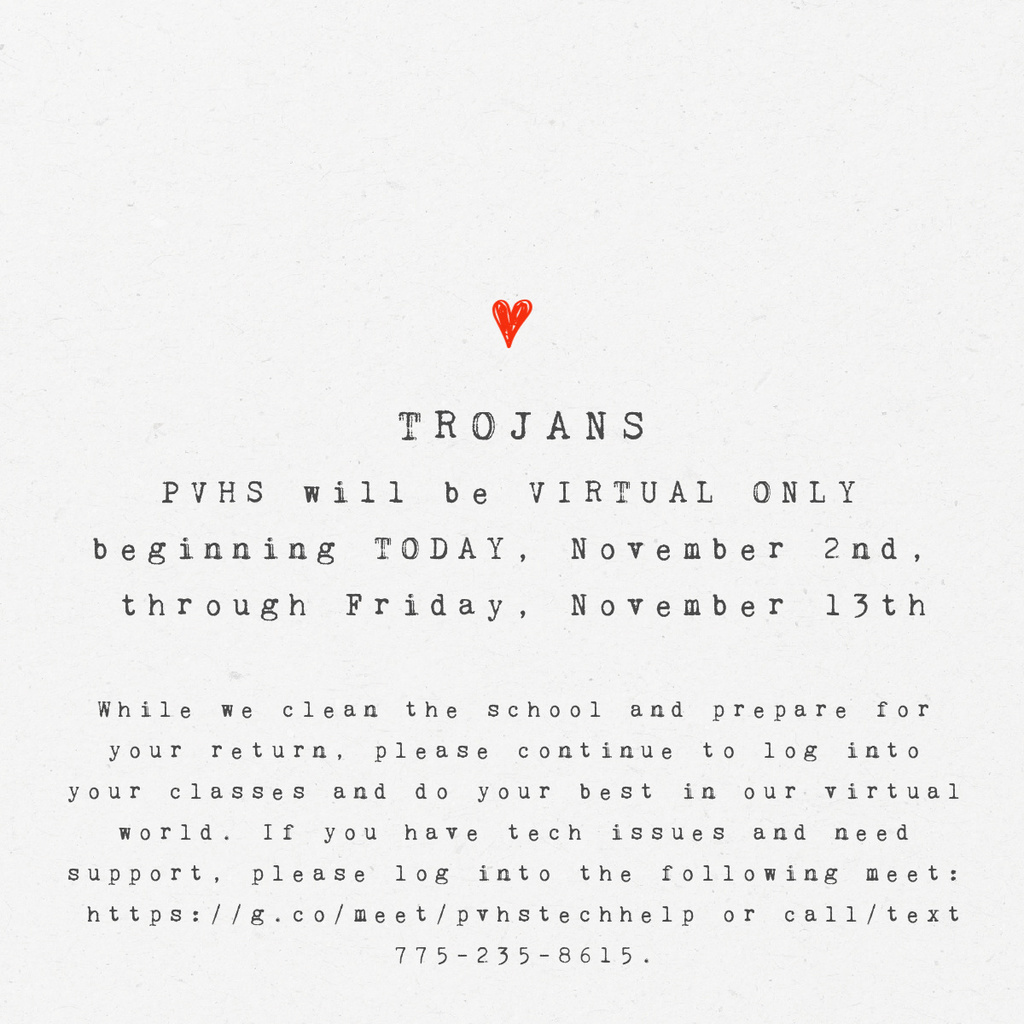 No School Today, October 29th, for Teacher In-service, or tomorrow, October 30th, for Nevada Day! We hope you have a healthy, safe weekend and remember to set your clocks back. See you Monday!